As India close in on what could be a famous win on English soil at Trentbridge against the second ranked Test team, as an Indian cricket fan I start wondering, which cogs on the wheel will start coming off this Indian team soon. At the close of play on the 4th day of the 2nd test, India needed just 63 more runs to get on the final day with all 10 wickets standing. What an opporunity, and what a memorable gift it would be for the stalwarts of the Indian team for who it would most likely be the last England tour. The list includes the famous Indian batting triumvirate - Tendulkar, Ganguly and the current captain, Dravid. Maybe even Laxman's last. But none more significant than the silent assassin - Anil Kumble.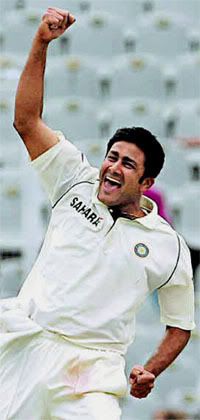 The humble, modest man, who hurries up batsmen in the crease with his fast leg breaks, came of age during the Australian tour in 2003-04. He has been the ever-reliable bowler for India, throughout the last 17 years. His services have been nothing less than tireless. He has gone on and on like a work horse, for providing his team the breakthroughs, or sometimes, bowl within his limitations to dry up the runs. Always up for a challenge, he has always been mentally the toughest of cricketers India has ever produced. He would realise, more than anybody else that he probably has not more than 2 years of test cricket left in him.
That should come as a wake up call to the cricket academy in the country, the BCCI and maybe even the ICL. Kumble has been India's answer to the Waqar Younis or Wasim Akram, always cleaning up the tailenders of the opposition, more often than not. India has always had a history of struggling to get rid of the tailenders, but Kumble in Test Matches has always gobbled them up, helping to boost his test wickets tally to an astonishing 561 wickets in only 116 test matches. At over 36 years, and nearing the 37 year mark, there isn't much time for Kumble, nor for the Indian team to find an able replacement.