As India close in on what could be a famous win on English soil at Trentbridge against the second ranked Test team, as an Indian cricket fan I start wondering, which cogs on the wheel will start coming off this Indian team soon. At the close of play on the 4th day of the 2nd test, India needed just 63 more runs to get on the final day with all 10 wickets standing. What an opporunity, and what a memorable gift it would be for the stalwarts of the Indian team for who it would most likely be the last England tour. The list includes the famous Indian batting triumvirate - Tendulkar, Ganguly and the current captain, Dravid. Maybe even Laxman's last. But none more significant than the silent assassin - Anil Kumble.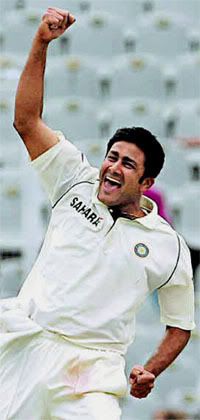 The humble, modest man, who hurries up batsmen in the crease with his fast leg breaks, came of age during the Australian tour in 2003-04. He has been the ever-reliable bowler for India, throughout the last 17 years. His services have been nothing less than tireless. He has gone on and on like a work horse, for providing his team the breakthroughs, or sometimes, bowl within his limitations to dry up the runs. Always up for a challenge, he has always been mentally the toughest of cricketers India has ever produced. He would realise, more than anybody else that he probably has not more than 2 years of test cricket left in him.
That should come as a wake up call to the cricket academy in the country, the BCCI and maybe even the ICL. Kumble has been India's answer to the Waqar Younis or Wasim Akram, always cleaning up the tailenders of the opposition, more often than not. India has always had a history of struggling to get rid of the tailenders, but Kumble in Test Matches has always gobbled them up, helping to boost his test wickets tally to an astonishing 561 wickets in only 116 test matches. At over 36 years, and nearing the 37 year mark, there isn't much time for Kumble, nor for the Indian team to find an able replacement.
Harbhajan may have much more talent,loop,turn than Kumble, but the attitude of Kumble is something every bowler the world over should learn. Perseverance personified, is what Anil Kumble is. Knowing his limitations, he continued to work on his strengths, and in the last 4 years has used the googly to great effect, especially in overseas tours. To achieve the level of consistency that he has, in winning matches for India overseas, and of course in India (where all Indian spinners have fared exceedingly well) is an amazing achievement. Just to re-iterate what I meant by his exceptional performance overseas in the past 4 years, let us break up his records at home and abroad.
2003-2007 Period, Bowling Analysis
Total Wickets - 212
Wickets Taken Overseas - 109, in 23 matches
Wickets Taken At Home - 103, in 17 matches
Period before this :
Total Wickets - 349
Wickets Taken Overseas - 127 in 38 matches
Wickets Taken At Home - 222 in 39 matches
Clearly, there is a seachange in Kumble's Test Career progress, and so has been the case with India's Test Match results. Every major Indian victory overseas after 2003 has seen a major contribution by Anil Kumble. Now, that is a feat which is almost impossible to emulate for some years to come. Therein lies the priceless contribution of Anil Kumble in helping Indian cricket transform into a world beating unit, importantly overseas, where it had struggled in the nineties. Indeed, there has been a new re-vitalised look in the Indian team with players like Dhoni and Sreesanth. But India clearly is short on world class bowling resources. The question again is, who after Kumble ?
To be honest, it is tough to replace such a great performer, who has always remained away from the limelight, but who quietly went about his job of picking up wickets. Never to be considered in the same talented breed as Shane Warne or Muttiah Muralitharan, Kumble through his own sheer perseverance and hard work has achieved so much. That's the lesson any ambitious young bowler should take.
I think, giving so much credit to the famed Indian batting line-up is being really unfair on Kumble's unending services. India should find a replacement, or seek for one as early as possible for this wonderful cricketer and more so a wonderful human being. India has always produced great batsmen, and there doesn't seem to be an instant dearth of quality in the batting department. But, as far as bowling goes, it takes a cricketer with Warne's talent to replace the unassuming Anil Kumble. This cog in the Indian Cricket wheel will surely be tough to replace.
Note : I have derived the stats manually from
cricket statistics sites
, so there might be minor miscalculations.